Truck Wash car wash

---
There is opened new car wash for the trucks and

buses in Liepaja, placed on the O.Kalpaka 46 street – Truck Wash. It is placed 1000m away from StenaLine ferry terminal in Liepaja. Car wash can serve 3 trucks at one time in summer time period and up to 2 trucks in winter time period. Also we have big closed truck parking and comfortable entry and exit for the trucks from O.Kalpaka street side.
Maintenance of different types vehicles: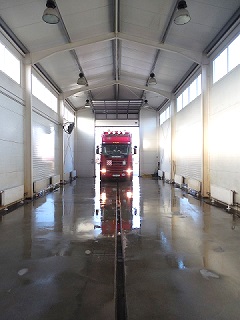 Motor vehicle washing




Truck washing




Trailer washing




Semitrailer washing




Special semitrailer washing




Dump truck washing




Tanker truck washing




Bus washing




Minibus washing



During the wash of the truck we are organizing aluminum surfaces (gas tank, etc.) cleaning with special anticorrosive means which give shine to aluminum parts of a truck.
There is waiting room for the drivers during the truck washing, Wi-Fi internet.
---
e-mail: truckwash@libava.com
Working hours: 9:00 till 24:00 o'clock.
Address: Oskara Kalpaka iela 46, Liepāja, LV-3405, Latvija
After 19:00 please call on the telephone number mentioned above.
---

---
Truck Wash is a unit of transport - logistic company Libava Trans Holding.